Emirates NBD is a leading banking and financial services corporation headquartered in Dubai, United Arab Emirates. The bank has a strong presence in the UAE and operates in various segments such as retail banking, corporate banking, investment banking, private banking, and asset management.
Emirates NBD was formed in 2007 as a result of the merger between Emirates Bank International (EBI) and the National Bank of Dubai (NBD). The merger created one of the largest banking groups in the region with assets totaling AED 682.6 billion as of December 31, 2021.
Register Your Resume !
The bank has a wide network of branches and ATMs across the UAE, and also operates in several other countries including Egypt, Saudi Arabia, India, Singapore, and the United Kingdom. Emirates NBD is known for its innovative digital banking services, which include mobile banking, online banking, and a range of other digital services.
Emirates NBD has won several awards for its services, including 'Best Bank in the UAE' and 'Best Digital Bank in the Middle East' at the Euromoney Awards for Excellence. The bank is also committed to corporate social responsibility, with a focus on education, health, and community development.
Emirates NBD offers a range of career opportunities across various segments of the banking industry. The bank is committed to attracting and retaining talented individuals and providing them with a challenging and rewarding career.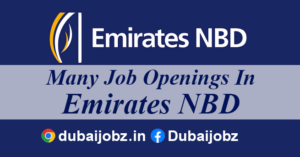 Emirates NBD offers a range of entry-level and experienced job opportunities in areas such as retail banking, corporate banking, investment banking, private banking, asset management, and more. The bank also offers a range of graduate and internship programs designed to develop the skills and knowledge of young professionals.
Emirates NBD is committed to creating a diverse and inclusive workplace and encourages applications from individuals of all backgrounds and experiences. The bank offers a competitive salary and benefits package, as well as opportunities for career growth and development.
Note: We are not recruiters ,instead we just sharing available jobs in worldwide,once you click on the apply/job title,will direct you to the career page of concerned job provider,so Dubaijobz.in is not directly or indirectly involving any stage of recruitment.