Al Rostamani Group is a Dubai-based corporate conglomerate founded in 1957. The group has a diversified portfolio of businesses including automotive, real estate, contracting and trading.It has over 4,000 employees and operates in several countries including the United Arab Emirates, Oman and Qatar.
The Group's automotive division includes well-known brands such as Nissan, Infiniti, Renault and Arabian Automobiles Company. The Real Estate segment manages a variety of properties including residential, commercial and retail spaces.
Join Us
Al Rostamani Group is also involved in several joint ventures and partnerships with international companies. For example, we partner with global insurance company Allianz to provide insurance solutions to our customers.
In addition to its business activities, Al Rostamani Group is also committed to social responsibility and philanthropy. Launched several initiatives to support education, healthcare and other social causes within and outside the UAE. Altogether, Al Rostamani Group is a respected and successful business conglomerate in the United Arab Emirates with a strong focus on innovation, excellence and social responsibility.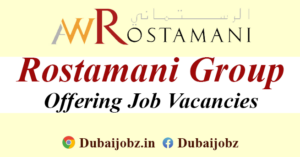 We are looking for people with a passion for innovation and a relentless pursuit of quality. People who see opportunity in every challenge and inspire in every achievement. It is not only to believe in something, but also to live it. At AWR, we are driven by our commitment to making a constructive contribution to the lives of our customers, partners, stakeholders and employees through our products and customer-centric services.
We are always looking for dynamic and motivated people at all levels in the automotive, real estate, construction, retail, logistics, information technology, travel, consulting and training sectors.
Note: We are not recruiters ,instead we just sharing available jobs in worldwide,once you click on the apply/job title,will direct you to the career page of concerned job provider,so Dubaijobz.in is not directly or indirectly involving any stage of recruitment.